Centre Connect 2015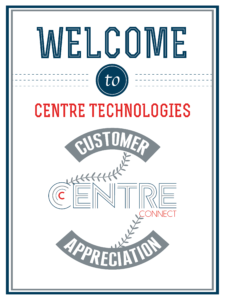 Centre Connect is our annual customer appreciation event. This fun and laid back event gave our customers the chance to connect with our partners and Centre employees at Minute Maid Park.
The afternoon included breakout sessions allowing each attendee to choose from one of three tracks:
Infrastructure (with presentations by Dell Storage, Dell Data Proteciton, Exagrid, and Veeam)
Networking (with presentations by Cisco, SonicWall, Cyrus One, and Radware)
End User Enablement/Management (with presentations by Lifesize, Centrify, Mobile Iron, and Centre Services)
We transformed Minute Maid Parks' Diamond Club into the Centre Connect Partner Fair. Attendees and guests had the chance to meet one-on-one with representatives from:
Later that evening, attendees and their families took to the fields of the stadium for batting practice. Each batter got star treatment and saw their names and faces on Minute Maid's jumbotron! Check out the videos from the event on Centre's YouTube Channel.
Pictures from Centre Connect
[gallery ids="2290,2291,2292,2293,2294,2295,2296,2297,2298,2299,2300,2301,2302,2303,2304,2305,2306,2307,2308,2309,2310,2311,2312,2313,2314,2315,2316,2317,2318,2319,2320,2321,2322,2323,2324,2325,2326,2327,2328,2329,2330,2331,2332,2333,2334,2335"]
Did you take your own pictures at the event? We'd love to see them! Just email your Centre Connect 2015 pictures to the Marketing Department. You can also email the Marketing Department to request a DVD of all the photos we took at the event.
Thank You for Attending!
Thank you to all of the customers, partners, and employees who made Centre Connect 2015 a success. As always, Centre Technologies is proud to be a part of your team – your Value-Added Partner.