Filling the gap and feeding the need for transformative IT
Published on March 5, 2018
Many small to medium-sized companies today leverage a Managed Services Partner (MSP) for IT services to avoid the cost of having IT administrators and support on staff. While this is a cost-effective solution for general IT support, MSP's primarily address projects and day-to-day issues, otherwise known as "break-fix". For the most part, MSP's do not take steps to consult with their client to drive long-term IT strategy based on the business's direction and growth goals—and business leaders often do not have the time or expertise to effectively drive IT.
What's a Virtual CIO (vCIO)—and What Does It Do?
The role of the Virtual CIO (vCIO) is to work within your organization and provide the expertise to translate and manage IT from an executive level, including:
developing IT strategy/budget;
understanding the changing technology landscape in order to implement new technologies to aid in business efficiencies;
providing cost analysis (identify potential savings or justify increase);
driving IT direction based on your business goals;
being a trusted business partner.
By outsourcing CIO-level resources in absence of a formal CIO or CTO, business leaders are enabled to run the business and not be caught up in the day-to-day complex management of IT.
Flexibility with Affordability
The vCIO can be brought in for a fraction of the salary requirements of hiring a full time CIO. Currently in the Texas market, the median cost of a CIO's annual salary is roughly $170,000. For most SMBs, this is a salary that is difficult to justify when it comes to utilization and keeping the CIO busy for 40 hours a week. In comparison, it can be easier to justify and budget for a person with a set number of hours per month.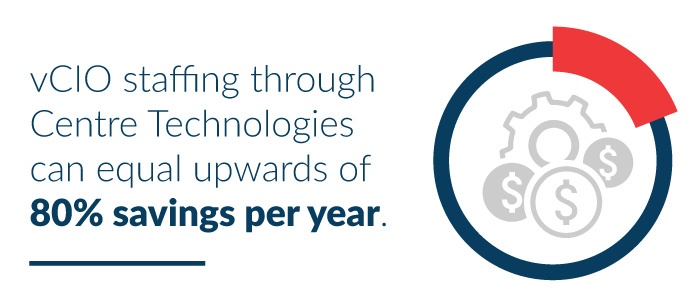 Evaluating the set number of hours each year adds a level of flexibility and agility that supports evolving businesses. For example, the annual cost of a vCIO through Centre Technologies at 40 hours each month could save you upwards of 80% per year—and that's not including the additional associated expenses of employment benefits for a full-time employee.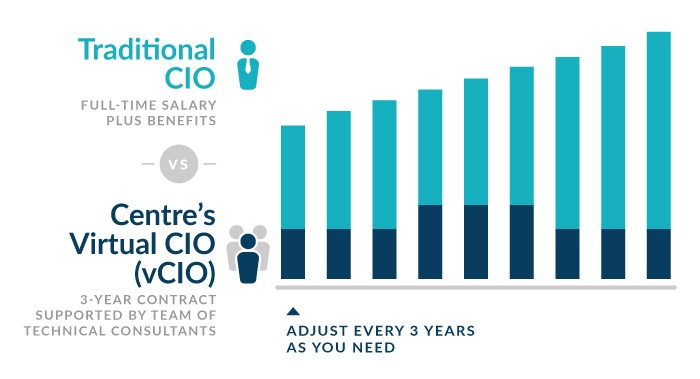 But the benefits of a vCIO don't stop there. Unlike a traditional full-time CIO, the cost of Centre vCIOs includes the backing of a skillful team of technology consultants with decades of IT experience. Furthermore, assigned Centre vCIOs are able to provide functions similar to a traditional staff augmentation that can be deployed to assist as an interim solution during periods of transition within IT leadership—for short-term or long-term.
No matter the size your business or current technology infrastructure, having a seasoned advocate in your corner allows you to focus on the future of your organization.
---
References