Hands-Free Computer Network Security with Managed Services
What is Managed Services?
If you have ever wanted to have a full scale IT department without actually having one in-house, then managed services may be a fit for your business. Computer network security is a hot issue right now, in light of the Target breach and numbers other cyber attacks. If giants like Target can be compromised, you may be wondering how your business can stand a chance.
Managed services are a set of IT solutions and services that allow businesses to offload their technology risks by letting an outsourced IT provider handle their infrastructure. For a fixed monthly fee, a managed services provider (MSP) will meet their contractual obligation to respond to all of your help desk tickets.
That, however, only scratches the surface of the value of managed service.
How Does Managed Services Promote Computer Network Security?
Network security is a multifaceted operation that involves many different parts working in sync to protect your infrastructure. The benefit of having an MSP is that you delegate this task to a team of IT experts with high quality equipment and software.
5 Ways MSP's Protect Your Network
Assessment identifies and closes security gaps: An MSP's recommendation and plan is only as good as its initial assessment of your current infrastructure. During this stage, they will identify any existing holes in your security and create a solution to fix them.
Best-of-breed security software: Your MSP should provide only the best, enterprise-level antivirus and anti-malware software.
Quick response to help desk requests: When your users have an IT problem, your MSP is required by contract to respond their all of your help desk tickets. This can catch potential threats, such as when users open an attachment from an unfamiliar email or accidentally damages security hardware.
Constant monitoring and report generation: A good MSP installs a monitoring client on every workstation. This method allows them to identify computer network security risks before they breach the infrastructure.
Maintenance: Your managed services provider is responsible for regular patching and updating on all of your software, including your operating system, firewall, and antivirus.
MSP's are often described as "hands-free" IT solutions providers. Imagine not only having reliable IT support, but truly hands-free computer network security as well.
How Do I Select a Managed Services Provider?
Your choice of managed service provider shouldn't be decided by chance or proximity. Choose an MSP that gives you full, remote workstation support and access to the best technology in the industry for one monthly price.
If you need more information, or if you're ready to get started in bolstering your network security, contact a certified consultant at Centre Technologies to discuss our managed services options.
How to Find the Best MSP for your Business
Download our free eBook, Managed Services 101, for a a step-by-step guide for finding an MSP that provides enterprise-class services for your business.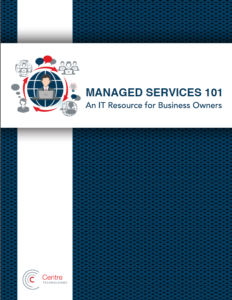 With this download, you'll discover how to assess the quality of a Managed Services provider, learn about the threats facing your computer network security today, and more. Download this free resource today.
Download Managed Services 101.