How Security Assessments Help Identify What's Putting Your Business at Risk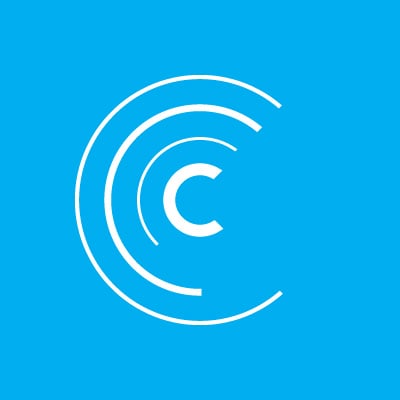 IT Consulting
What makes security assessments important for businesses in 2022? These assessments provide a thorough scan of vulnerabilities that could severely harm your business once exploited. As cyber threats continually evolve and new vulnerabilities are found, it's becoming a necessity that business's have a steady grip on best cyber security practices. In this article, we're going to go over how security assessments classify as a cyber security best practice and how they help identify weaknesses that could severely damage the reputation, client relationships, and business continuity.
Just last year, in November of 2021, the Log4j Vulnerability was discovered. Shortly after, another, much less severe, vulnerability was discovered — Microsoft Win32k Privilege Escalation Vulnerability. According to the NIST NVD analysis, 50 Common Vulnerability and Exposures (CVEs) are logged every day. It's these very vulnerabilities that cyber attackers and hackers prey on. Security assessments help businesses to ensure that as the cyber landscape continues to evolve and the threat level continues to rise, they are well equipped to withstand whatever threats attempt to penetrate the environment.
What is a security assessment?
A security assessment focuses on identifying, assessing, and implementing key security controls in applications. The goal of a security assessment is to prevent security defects and vulnerabilities within an organization's suite of applications. By taking a look into the system from an attacker's perspective, IT experts can ensure that security controls have implemented correctly, are operating as they should, and are producing the desired outcome.
You Should Conduct a Security Assessment If You:
Want to update or strengthen your security policies and procedures
Want to identify bugeting or training needs
Want to ensure nothing is weakening your cyber security efforts
Haven't done so in 2 or more years
While a security assessment can provide crucial insight into your IT environment, it isn't a fix-all solution. If you are already aware of the security issues in your environment, it would be best to speak with an IT consultant to determine what solution would support your business the best.
Types of Security Assessments
To conduct a thorough assessment of your environment, it's important to determine what the right security assessment/s are to conduct. The right security assessment for your business is determined by your IT team. The following are different types of security assessments you may encounter as you embark on improving your security posture by implementing routine security assessments.
Vulnerability Assessments
A vulnerability assessment is a technical test that automatically locates and maps out as many potential vulnerabilities in your IT environment as possible. It scans system devices, software applications, and operating systems exploiting any vulnerabilities that could be missed by security tools.
Penetration Testing
A penetration test involves a person or a team of people attempting to step into the mind of an attacker by compromising defenses and breaking into the network. This test is usually issued to identify any risks missed by security audits and vulnerability testing. It will test your environment to ensure that the security posture is sufficient.
Red Teaming
Red teaming focuses on a specific objective. The goal of the red team assessment is to improve the incident response. This can involve many people working together to penetrate security defenses using electronic means, social engineering, and physical access. The purpose of a red team test is to penetrate the security defenses to achieve that specific objective.
Third-Party Risk Assessments
Like guarding against a virus, part of ensuring the security of your environment is ensuring that the environment's you interact with aren't also infected. A third-party risk assessment runs an analysis of the risks introduced to your business through third parties.
IT Risk Assessments
A risk assessment helps to identify the kind of threat that poses a security risk to your environment. Starting with risk intelligence and threat analysis, an IT Risk Assessment essentially singles out problematic areas in the environment and focuses on the areas that need immediate attention.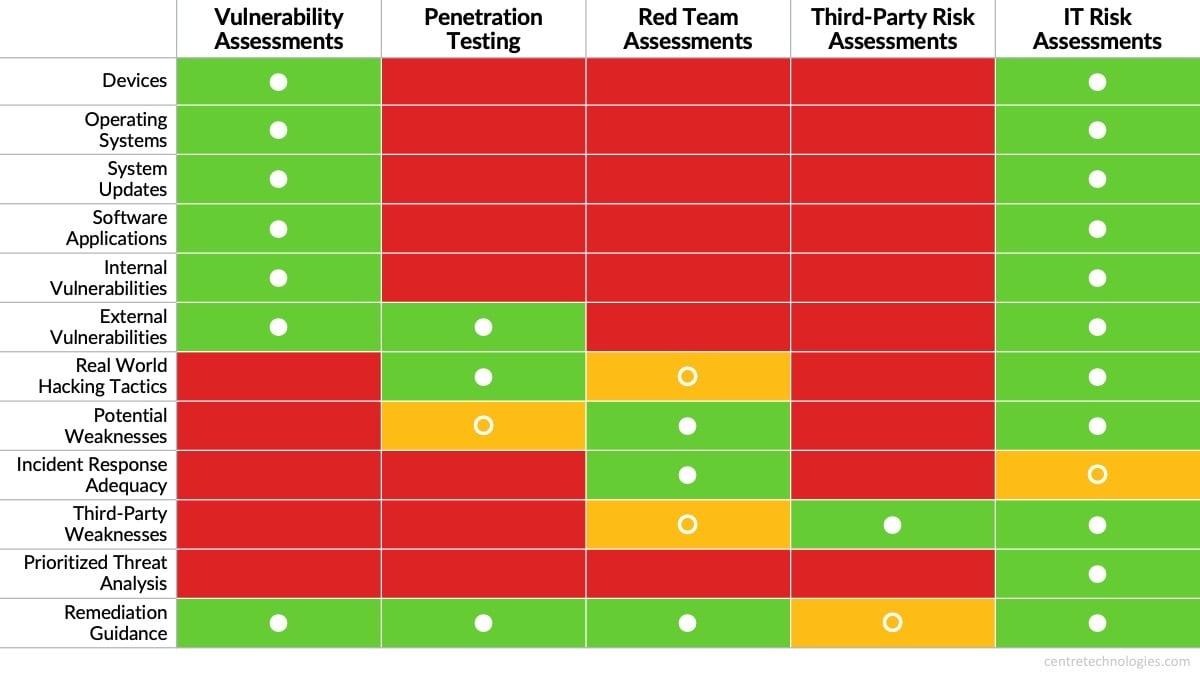 Ways Your Business Benefits from a Security Assessment
Much like backups, security assessments need to happen on a routine basis. Whether you know which security assessment needs to be performed for your business or you seek the help of a thorough IT consultant to determine that for you, maintaining a security assessment schedule can benefit your business in a wide variety of ways, such as;
Staying ahead of security threat trends

Keeping up with remote workforce changes

Meeting compliance requirements (even if not required)

Managing software and application lifecycle

Aiding in cloud transformation (for hybrid environments)

Ensuring business continuity aligned with critical data and systems

Receiving an IT Blueprint to ensure operational efficiency
Staying Ahead of Security Threat Trends
New cyber threats are developed every day. The best way to get in front of these threats is to ensure that your software and applications are up to date, your cyber security enforcements are well prepared for what could come, and your environment is free of easily exploitable weaknesses that would otherwise remain undetected without a security assessment.
Keeping Up with Remote Workforce Changes
No one could have predicted that a global pandemic would usher in the dependence on remote work as it did. No one could have predicted its rise in popularity even after the pandemic's peak. Remote workforce changes are bound to happen as life changes. This is why Employee Security Awareness Training is becoming equally as important as security assessments in ensuring a secure IT environment. The last thing you want is for your business to be an easy target for equally evolving threats to the remote workforce.
Meeting Compliance Requirements
In some industries, there are tight compliance requirements and restrictions when it comes to the IT environment. For others, there's no such thing. According to a study done by Globalscape, organizations lose an average of $4 million in revenue due to a single non-compliance event. A security assessment helps you to align your business with compliance requirements which can save your business' time, money, and reputation.
The best way to secure this compliance is by partnering with a CMMC-AB Registered Provider Organization (RPO) that runs security assessments. This way, you're working with an organization that already knows what to look for in your environment and how to ensure you meet the compliance requirements in your industry.
Lifecycle Management
With the use of several different programs, applications, and software, it can be hard to keep track of what expires and when. Security assessments help you to take a deep dive into your environment so you can catch these expirations before they cause any disruptions or bottlenecks in your day-to-day activities. Managing the lifecycle of your applications ensures your system is running smoothly and any defenses in place through your applications, software, or programs are providing around-the-clock security.
With ransomware, viruses, and other malicious software preying on weak entry points, application whitelisting plays a huge role in the overall lifecycle management of your environment. This is why Centre uses ThreatLocker to provide the gold standard in protection when it comes to the software and applications used.
Cloud Migrations
There's a continual increase in cyber-attacks targeted toward the cloud. While there are many benefits to transitioning to the cloud from a traditional IT environment, it's still important to ensure your cloud environment is secure. Running a security assessment aids with migration to the cloud, helping you to identify any additional tools that are needed to support security for your environment.
IT Blueprint for Operational Efficiency
Not many IT consultants offer a full-blown blueprint of your IT environment. With it, however, you can gain a birds-eye-view of your environment to ensure operational efficiency in every corner. Here at Centre Technologies, we provide this to every customer during the onboarding of our Secure Managed Services. A security assessment is an essential component needed to provide this IT Blueprint and strengthen it.
"Does my business need a security assessment?"
Odds are, if you're reading this article, the answer is yes. Luckily, a thorough scan of your environment is as simple as contacting our IT consultants here at Centre Technologies. We provide a full security assessment with lengthy documentation that gives detailed insight into what problems exist and how to fix them.
We also provide a solution for those who want to skip the details and get to the action with our simplified IT security and infrastructure assessment that focuses strictly on action items. Ready to take the first step towards a secured environment? Contact us today!
Originally published on May 25, 2022
Be a thought leader and share:
About the Author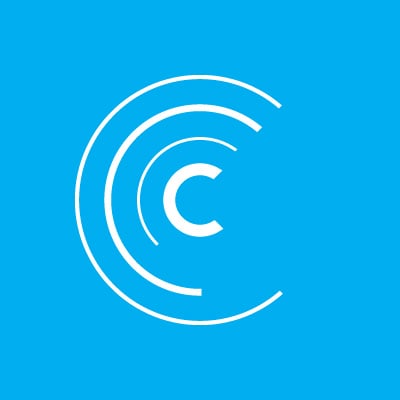 IT Consulting
Organizations count on Centre to deploy secure and efficient IT solutions that support business-critical operations. On an as-needed basis, Centre's IT consulting and professional services deliver enterprise-grade solutions customized to customers' unique business. Centre's certified consultants design and execute a tailored IT Blueprint™ — a comprehensive plan to manage customers' immediate needs while enabling long-term business continuity and operational efficiency. Learn more about IT Consulting »