Scalability 101: Scale Your Storage, Your Network, Your IT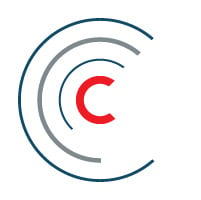 Centre Technologies
Scalability should be the top word in your mind when you are planning for any IT solution. The basic definition of scalability is, as defined by Miriam-Webster, something that is "capable of being easily expanded or upgraded on demand" (2014). In the world of IT, scalability is a feature that can make or break a business's experience with technology.
Why? A scalable IT product needs to do more than just expand or upgrade easily as demands increase: it has to work.
When an IT partner says that their product is highly scalable, be it a server, storage, networking, or other component, what they're really saying is that their product was designed to grow with your business.
Learn more about scalability, and why it should be a priority when you are making decisions about your technology investments.
High Scalability Servers
Your infrastructure is the centre of your business, and the beating heart of it is your server and its parts. If your server is weak, then so will the rest of your operations. When you select a server, make sure that you do not just opt for the "cheapest one." In this case, the lesson is not, "you get what you pay for," but more like, "you lose what you pay for, and then have to spend more money later."
Invest in servers that use parts made by best-of-breed manufacturers, like Cisco. This allows your business to start from a solid foundation. Whether you realize it or not, your IT resources are intrinsically linked to the efficiency of your business.
Scalable and Reliable Storage Solutions
The way we store data is dramatically changing. Previously, data was stored on rotating disks. This, however, limited the amount of data you could store and impeded the speed at which you could reclaim it. Additionally, modern day storage has to be flexible enough to accommodate technology's ever changing demands, including the demand for virtualization.
New technologies, like Tegile's flash storage array, offer what storage models of the past could not: high scalability. Tegile's all-flash and hybrid storage offerings provide enterprise level capabilities that not only store your data, but keep it secure and provide enhanced availability. In short, a scalable storage solution stores more data, keeps it secure, and allows you to access it faster.
Other Scalable Infrastructure Components
Your infrastructure is more than just servers and storage, and fortunately, you are running your business in an age where almost every component of your infrastructure can be scalable, including your:
Network
Mobility/MDM
Security
Communications
Data Management
Core Business Applications
Software
Despite the amount of innovations to scalable IT, it isn't enough just to purchase the products. If you don't have a dedicated IT solutions team to manage it, you may not be using your tools to their highest potential.
We Bring High Scalability to Our Clients- Let Us Do the Same for You
Centre Technologies was built on the principle of providing our customers with the best value for their IT investment, and one of the ways we fulfill this promise is by providing high scalability to businesses just like yours.
Now that you have an idea of what highly scalable servers and storage solutions can do separately, try to imagine what they can do together. Join Centre Technologies, Cisco, and Tegile for an informative Lunch and Learn in New Orleans. Click on the image below to register for the event, or visit the events area of our home page to find the Lunch and Learn in your city!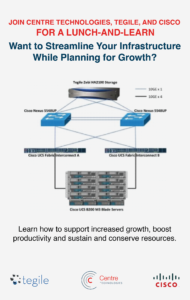 Originally published on October 27, 2014
Be a thought leader and share:
About the Author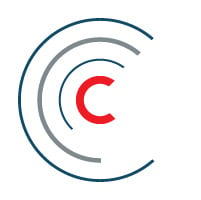 Centre Technologies
Centre Technologies is a full-service IT consulting and managed services provider headquartered in Texas, with a focus on mid-sized businesses. As a trusted IT partner for well over a decade, Centre is recognized for its local experience and enterprise-grade cloud and cybersecurity solutions. Centre is committed to helping organizations harness the power of technology to maximize their operational efficiency and exceed their business goals. Learn more about Centre Technologies »