How Real Businesses Increase Productivity at Work with Mobile Technologies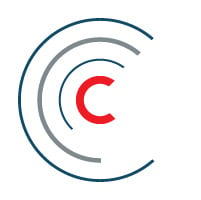 Centre Technologies
Mobile technologies aren't social gadgets anymore- very quickly, they're becoming an integral part of the way many industries operate. More than simply surviving in the modern workplace, mobile devices are thriving and giving modern businesses new ways to interact with their customers, keep track of their assets, and stay connected with their employees. In summary, workplace mobility helps businesses, across many industries, increase productivity.
Let's take a look at how different industries are using mobile technologies.
Healthcare
At the heart of healthcare technology is the patient electronic medical record, or EMR. Mobile devices give physicians, nurses, medical assistants, and other medical staff the ability to take the EMR with them on the go via tablet or even smart phone. Within the privacy of the exam room, medical staff can log vitals, review symptoms, take pictures for the chart, and share the patient's past medical history with them in real time.
Physicians who travel between different hospitals and clinics can use secure EMR apps to stay connected to their patients regardless of their location. Secured devices and apps protect the patient's PHI and keeps the physician/clinic HIPAA compliant.
Newer applications of mobile tech in the healthcare field are even more exciting. Some practices are encouraging patients to use mobile apps to keep track of their health to give physicians real-time data about their patients.
Education
Educators take advantage of mobile technologies to enrich the teaching experience for their students. 1:1 deployment generally means issuing one device per student, and studies have shown that empowering students with technology promotes student engagement and productivity. Educators themselves benefit from workplace mobility. Thanks to laptops, tablets, and smartphones, they can stay connected to their students via email, phone call, or even social media.
In higher education, the benefits of mobility become even more apparent. A study by Educause found that students and faculty in higher education overwhelmingly use mobile, tablets, and e-readers for regular school work.
Energy
The energy industry is always moving, and so is their technology. Gartner predicted that, "Lowering costs and improving the accuracy and effectiveness of the field force are the main drivers for utilities to deploy mobile and wireless technologies" (Source: Gartner).
Employees in the energy sector can now take their work with them and work on projects securely through private clouds and VDI. Mobility has helped the industry streamline their workflow and shipping demands with tools like navigation, GPS, PDA's, tablets, and smartphones. Employees can gain real-time analytics on the ground and deliver the data throughout the system. For energy, mobility has become an indispensable tool to communicate, collaborate, and manage their assets in real-time.
Small Businesses
Mobile technologies can make or break a small business. The AT&T Small Business Technology Poll found that "mobile apps save business owners almost 600 million hours annually, while smartphones and tablets save them nearly 2 billion hours" (Source: AT&T Small Business). Mobile apps and devices save small business owners invaluable time and money, allowing them to focus on running their business.
Mobile technologies can impact everything in a small business, including how they connect with their customers, pay their employees, keep track of their inventory, and how they process transactions. More importantly, small businesses don't have the vast resources of a large corporation, and mobile technology is cost-effective, yet flexible enough to grow with their needs.
Sales and Marketing
If staying connected to your customers is the crux of your industry, mobile technology is a necessity. Employees in sales and marketing need to follow their customers to reach them, and 97% of all consumers are online (Source: BIA/Kelsey). Mobile technologies not only increase productivity, but they also give your employees the ability to stay connected with your clients, regardless of their location, and bolster your competitive advantage.
How to Increase Productivity in Your Business With Workplace Mobility
Mobile technologies have their limitations and challenges, namely security. Enterprise mobility management is the only way to give your employees the tools they need while keeping your data secure. Find out how your business can benefit by contacting Centre Technologies today.
Additional Resources:
You can also download our whitepaper, Enterprise Mobility Management: Why Size Doesn't Matter. Discover a set of IT solutions that help you leverage mobile technologies in your organization with the security and scalability you need.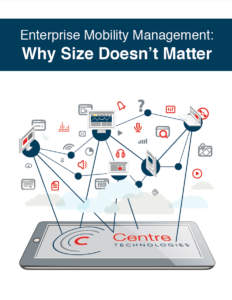 Originally published on April 1, 2015
Be a thought leader and share:
About the Author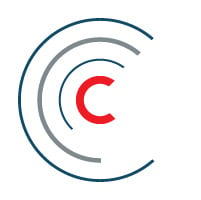 Centre Technologies
Centre Technologies is a full-service IT consulting and managed services provider headquartered in Texas, with a focus on mid-sized businesses. As a trusted IT partner for well over a decade, Centre is recognized for its local experience and enterprise-grade cloud and cybersecurity solutions. Centre is committed to helping organizations harness the power of technology to maximize their operational efficiency and exceed their business goals. Learn more about Centre Technologies »