How to take full advantage of Office 365 security features
Published on March 18, 2020
So you've successfully moved to Office 365 — now what?
One of the first things Centre Microsoft experts recommend doing once your Office 365 tenant (your company's slice of the Microsoft 365 pie) is up and running, is to check your Microsoft Secure Score. This security score provides a high-level view of your organization's security posture for your Office 365 environment over a period of time. Initially when your tenant is first created, your security score may report as extremely low.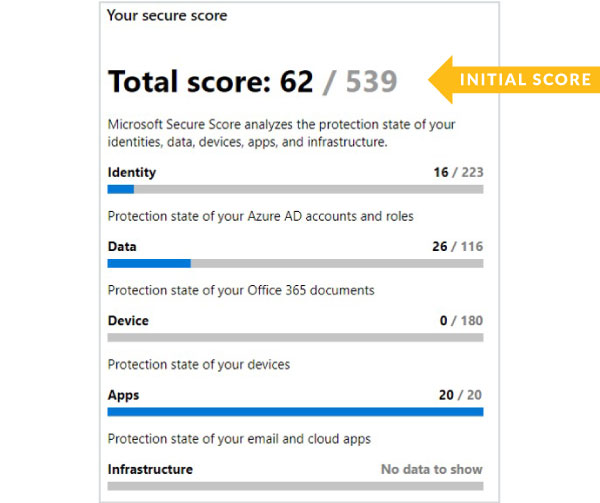 Uncovering Potential Security Gaps
In the above tenant example there are almost 500 points of potential improvement within your Office 365 environment. The Microsoft Secure Score provides a list of recommendations called "improvement actions". These recommendations are ranked based on the remaining points, difficulty, user impact, and complexity. Each action is assigned a score (current vs. potential) to help you identify how big of an impact can be made by completing that specific action.

Microsoft provides helpful information for each improvement action, including a general Description of what the specific action will change, where to make the change within the Microsoft 365 portal, user impact (Low, Moderate or High), complexity (Low, Moderate or High), how completing the action helps protect your organization, and which compliance requirements it maps to. Having this information available to Office 365 administrators reduces time needed to quickly improve your business' security posture without having to read through mass amounts of technical documentation.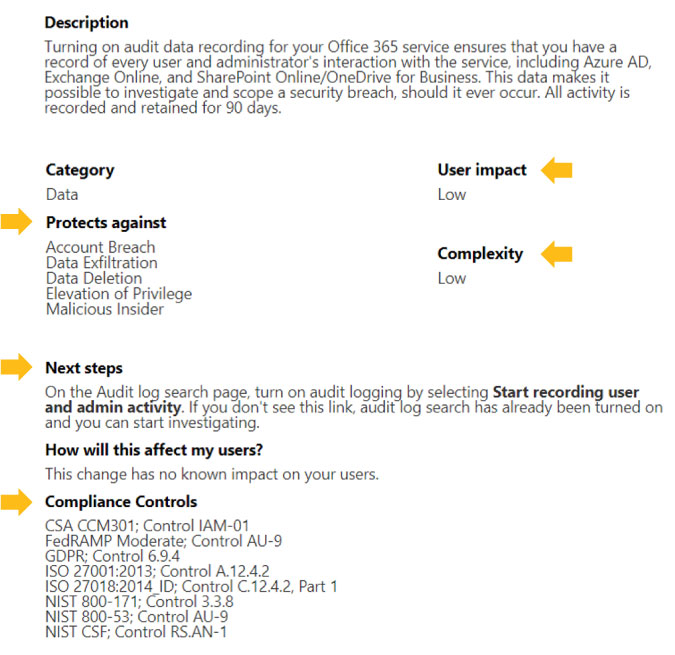 Once the recommended action is completed, it can take up to 24 hours for the Microsoft Secure Score to reflect the improvement.
Boosting Security Visibility
While Microsoft has made it easier to improve an organization's Office 365 security posture by providing clear recommendations, priorities, and instructions—there are more opportunities and insights available beyond Microsoft Secure Score.
For example, Centre Assist™ Secure Managed Services customers have access to operational efficiency and security risk insights via a comprehensive dashboard called CMAC™. In addition to the standard Microsoft Secure Score, CMAC™ enables business leadership to easily view anywhere, anytime (on desktop or mobile device):
trending technology issues within existing environment
how they affect support ticket trends
level of effort required to resolve recurring issues
technology and network consumption
number of devices flagged as "end of life" (lifecycle management)
number of operating systems flagged as "out of support"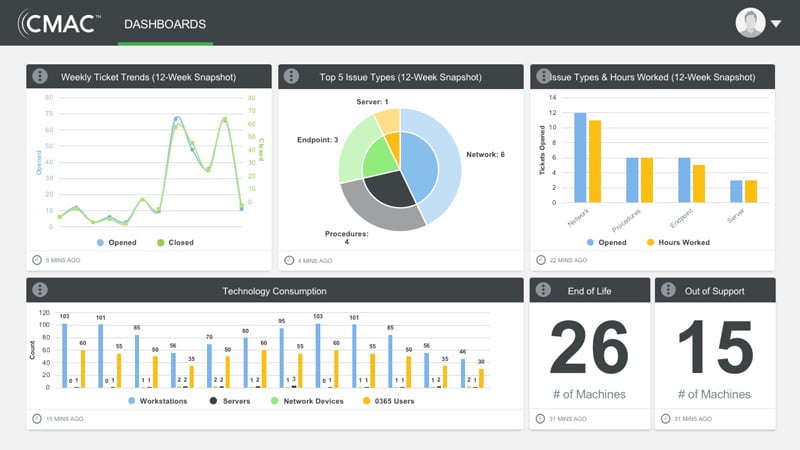 Top recurring issues are then addressed during regular business reviews and accounted for within an IT blueprint that includes specific roadmaps for solution deployment.
For more information or for a demo of Microsoft Secure Score, please contact Centre to schedule a Microsoft Customer Immersion Experience (CIE) and learn how value-adds like CMAC™ help organizations elevate their game.