How Businesses Gain Elasticity with Microsoft 365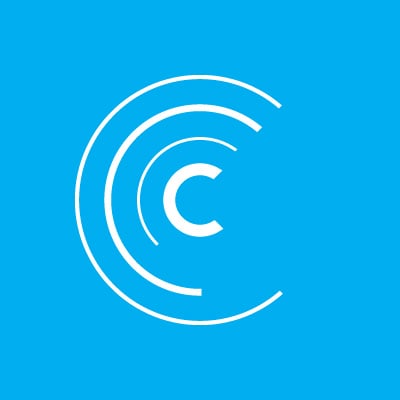 IT Consulting
Microsoft 365 is a cloud service enabling businesses to respond quickly and efficiently to change. 365 empowers organizations to move smoothly through shifting needs or circumstances with easily adjustable subscription plans, access to productivity-boosting applications, and security and compliance features.
The right technology should empower businesses to adapt to new goals or circumstances, not add extra stress and friction. Microsoft 365 is a powerful cloud solution, delivering tools (Software-as-a-Service) that facilitate productivity and minimize the burden of deploying, adjusting, and securing IT. Essentially, businesses can focus more on achieving their objectives and less on logistically preparing for or responding to change.
How does Microsoft 365 work?
Microsoft 365 (M365) is a cloud service available through subscription-based licensing. Based on your operational needs and size, you can purchase a certain type and quantity of licenses that can be replaced and renewed as your business shifts or grows. Microsoft Certified Solution Providers (CSP) can be helpful in deciding which and how many licenses are needed, and monitoring when licenses need to be updated or removed. With a subscription, your business can get immediate access, with no hardware setup or tedious installations, to a range of productivity apps, including Microsoft Word and PowerPoint, as well as newer collaborative apps such as Microsoft Teams, SharePoint, and Outlook.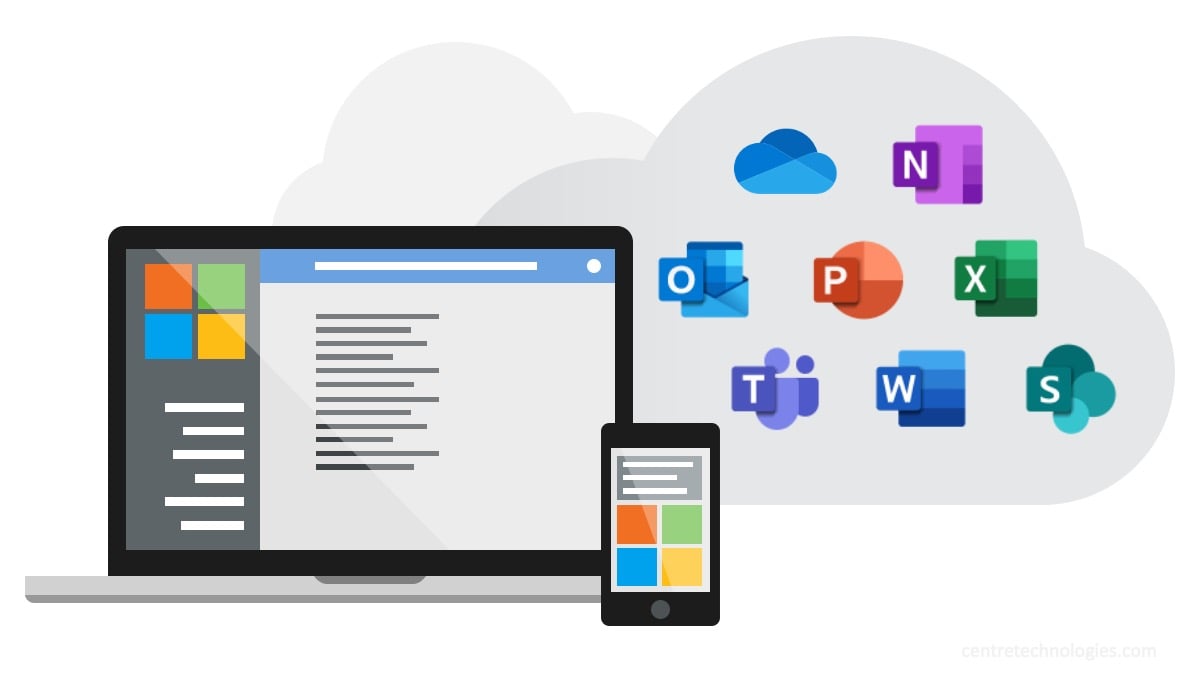 How does M365 promote resilience and flexibility?
Scalability and Employee Turnover
Microsoft 365 propels your organizations forward in times of growth or change instead of holding it back through expensive commitments and logistics. As your businesses size changes or needs shift, licenses can be easily added or removed — without large up-front costs or installations. Additionally, the process of setting up and accessing 365 software on new devices is relatively simple for both IT admins and the new user. Once the licensing is adjusted and the credentials are entered, the device is ready to go. For businesses with more advanced licensing, IT admins can even bypass the tedious process of manually imaging and deploying new devices. Devices can be directly enrolled or reconfigured through your Microsoft portal using features like Windows Autopilot or Intune. With a reduced administrative burden, human resources, IT departments, and supervisors can hit the ground running with their changing team.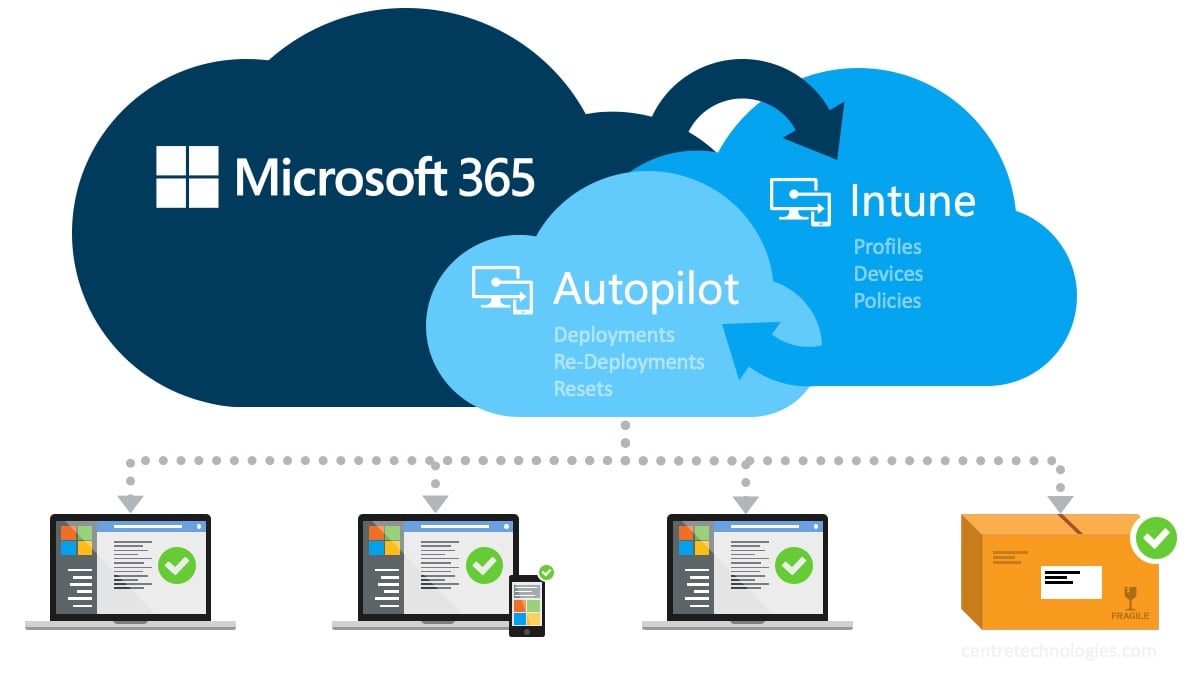 Ubiquitous Access
Given the circumstances of the pandemic and the push for more workplace flexibility, the need to work from anywhere at any time has never been more apparent. Cloud solutions like Microsoft 365 are critical to supporting a more digital and mobile workforce. Employees can simply log into their account to work and collaborate in real time from any device, including phones and tablets. VPNs and terminal servers are no longer necessary to work from different devices — only a network connection is needed. Additionally, mobile application management enables IT to enforce corporate policies and controls to protect your business, customers, and employees' data, even when accessed from a personal device.
Efficient Management and Updates
Software updates no longer need to be separately bought and/or manually installed. Microsoft can automatically update your software to ensure your business is always using the most advanced and secure version. Additionally, IT admins can now quickly and easily manage changing operational needs or goals by reconfiguring settings, subscriptions, and storage needs in no more than a couple of clicks through their Microsoft portal.
Security and Compliance
A common obstacle to swiftly adjusting technology and operations is the need to constantly evaluate and monitor IT security and compliance posture. Microsoft 365's various security features deliver peace of mind for businesses to move faster without sacrificing their safety. Select plans include various security features, including message encryption, audit reporting, and multi-factor authentification. More advanced licensing can also be used for enhanced data and system protection, with features such as advanced compliance, cloud app security, and endpoint detection and response.
99.8%
Protection Rating
in comparison tests with other anti-virus solutions
What are Possible M365 Disadvantages?
Through all its productivity-boosting benefits and features, there are some considerations to be made when deciding to Microsoft 365. The good news is most of the disadvantages of this cloud service can be remedied through purchasing additional features or getting help from an IT Company. Here are the top challenges Microsoft 365 may prompt and how to combat them.
Software License Management
The ability to add new license types and quantities easily is one of the features which make Microsoft 365 extremely adaptable to any change in your business. However, managing those licenses can become difficulty, leading to unused licenses or features which are still being paid for.
The Solution:
Make sure to keep track and monitor your licenses in your Microsoft portal regularly and adjust accordingly. To gain more visibility into your 365 plan and pricing, as well as license expertise and management, your business can utilize a third-party IT Partner. Centre Secure Microsoft 365 customers gain simplified billing reports and access to the CMAC™ Secure Microsoft 365 Dashboard, illustrating everything they need to know about their current 365 use without extra complexity or jargon. Additionally, Centre Technologies and other Microsoft CSPs can enable your business to switch or change licenses without penalty, even month-to-month.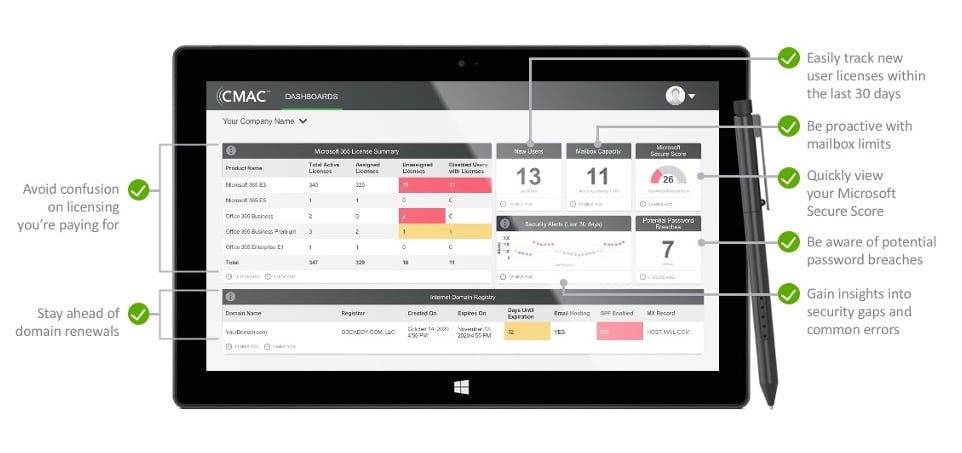 Insufficient Backups and Recovery
Since your data is stored in the cloud, it will still be available even if your organization's servers and devices are involved in a disaster. You can also backup important folders in OneDrive which will be stored to up to 30 days based on your current settings. However, businesses wanting to maximize business continuity in an unexpected event or disaster may want to opt for a more rigorous backup strategy, including automatic backups and the use of a secondary location. Additionally, the process for retrieving backed-up data from Microsoft can be complicated and time-consuming.
The Solution:
Carefully adjust your settings and licenses for a backup plan and retention policy that matches your business needs and industry standards. Partner with an IT company or consultant to help you choose and configure the M365 plans that works best for your business. In fact, Centre Technologies and other trusted IT companies can implement managed and secure backups with additional locations to ensure maximum data security and retention. Additionally, certified Microsoft partners can also be utilized to help your business simplify and quicken data retrieval from backups.
Insufficient Security
The level and rigor of protection your Microsoft 365 account depends on which license and plan you use as well as how your settings are configured. Some businesses may choose a plan or settings, perhaps unintentionally or for financial reasons, which leaves them exposed to exploitation by bad actors or insecure backups.
The Solution:
Invest in understanding the compliance and security impacts of different plans and features and whether they are right for your organization and industry. To save time and resources and gain expert advice, you can also consult with an IT solutions provider to optimize your solution given your operations and budget. Additionally, select providers can help close security gaps that even the most advanced licenses leave, such as employee awareness and training and sophisticated threat containment cybersecurity solutions.
Originally published on June 24, 2021
Be a thought leader and share:
About the Author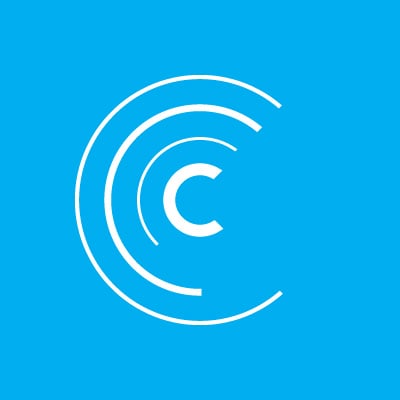 IT Consulting
Organizations count on Centre to deploy secure and efficient IT solutions that support business-critical operations. On an as-needed basis, Centre's IT consulting and professional services deliver enterprise-grade solutions customized to customers' unique business. Centre's certified consultants design and execute a tailored IT Blueprint™ — a comprehensive plan to manage customers' immediate needs while enabling long-term business continuity and operational efficiency. Learn more about IT Consulting »