RingCentral for Microsoft Teams
Published on March 31, 2020
Easy Collaboration at your Fingertips
The new RingCentral for Microsoft Teams, delivered and supported by Centre Technologies, brings enterprise-grade communication tools right to your Microsoft Teams app (part of select Microsoft 365 packages) enhancing quick and easy collaboration with reduced workflow and time. These integrations allow you to use the RingCentral audio calling, video meetings and conferencing features right from your Teams app.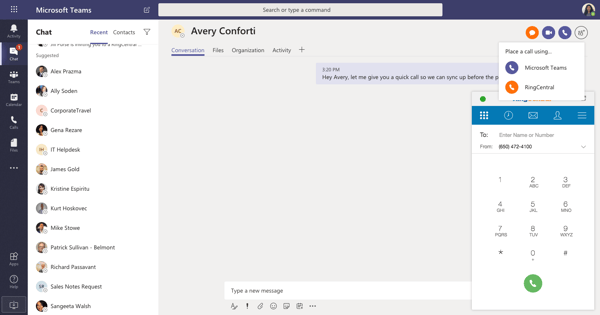 With the RingCentral Microsoft Teams bot, users can leverage the bot to post meeting and call details in a one-on-one or group conversation. Streamline workflows and work more productively with a single command. The RingCentral bot posts video meetings and audio conferences to a Teams chat, thus enabling the users to engage in video or audio meetings.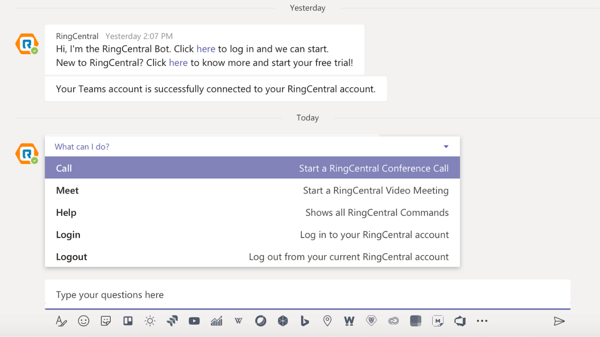 Features at a Glance
With the RingCentral Teams integration, dual-users can enjoy benefits that enables quick and easy collaboration between stakeholders and enjoy reduced workflow and time as system generates all necessary conferencing details for the participating team members.


RingCentral for Microsoft TEAMS
Send SMS messages, access voicemails, and send faxes.
View your RingCentral contacts and call history details.
Schedule or launch a RingCentral video meeting or audio conference within a direct message or group conversation.
Set RingCentral as your preferred communications provider for SMS, meetings, and calls while working in Teams.


RingCentral bot for Microsoft Teams
Simply @mention the RingCentral bot in a Teams conversation to bring up a host of functions:
@RingCentral Call -Posts the RingCentral conference call dial-in and access code. Users have the ability to click to join the call from the conversation and access global dialin numbers if needed.
@RingCentral Meet -Posts the RingCentral meeting ID and dial-in number. Users have the ability to click to join the meeting from the conversation and access global dial-in numbers if needed.
@RingCentral Help -Brings back the RingCentral bot menu and lists bot commands.
@RingCentral Logout -Successfully logs a user out of their RingCentral account.


Get Setup with RingCentral Microsoft Teams
Go to the Apps section within Microsoft Teams and find the RingCentral app.


Click the RingCentral app to install it in a specific direct or group conversation.

Sign-in and authorize.


For more information, contact Centre Technologies and learn more on how RingCentral brings value to your current Microsoft Teams application.
If your current Microsoft 365 license does not include Microsoft Teams, contact Centre Technologies to learn how you can receive month-to-month flexible license benefits for a customized amount of users.