What Does it Take to be a HIPAA Compliant Technology Company?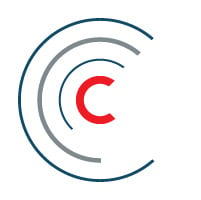 Centre Technologies
Modern IT companies must know their clients' business needs inside and out. Not all technology companies in Texas can serve the needs of a medical institution.
Houston-based attorney at law, Rachel V. Rose, JD, MBA, discusses the basics of HIPAA legislation and what HIPAA compliance law covers within the scope of technology and IT for healthcare businesses.
If you work in the healthcare industry in Texas or Oklahoma, you're extremely familiar with the ins and outs of HIPAA for your organization. However, if you're looking for an IT and cybersecurity company or solutions for your tech needs, virtual HIPAA compliance is a whole different beast. Let's dive into HIPAA best practices when working with an IT support provider in Texas and Oklahoma.
Secure Protected Health Information (PHI)
It may seem obvious to ensure that your IT provider focuses on PHI, but this point cannot be overlooked in today's digital age. PHI can appear in emails, scanned documents, text messages, and smartphone downloads. Regardless of the form, HIPAA requires PHI to be secured, which is why this should be a main focus for your cybersecurity company.
Healthcare IT solutions must account for all possible accounts of PHI. This should include creating secure pathways for messages between patients and providers, implementing proper software onto all devices that contain PHI, and encrypting data between endpoints.
Encryption
Encryption is one of the most basic but essential cyber security tactics. Encryption is particularly important for digital PHI. Encryption should occur every time data is in transit, as well as when it is stored anywhere on a physical device or on the cloud. Encryption makes it much more difficult to access sensitive patient information even if that information is obtained through a data breach, the loss of a physical device on which the data is stored, or through other means. Ensure that your IT provider has a thorough plan for your organization's PHI encryption.
Have a Data Breach Backup Plan
The goal of every healthcare organization is to avoid data breaches in the first place. However, the worst-case scenario can — and does — happen. To maintain HIPAA compliance and minimize damage, organizations need a backup and disaster recovery plan in case a data breach does occur. It's just like having insurance: you'd prefer to not need it, but if something happens, you want to have it. The right IT provider will help your organization set up this plan and, if ever needed, implement it quickly to preserve patient privacy and minimize damage to your company.
Use Layered Security Measures
Your healthcare business should strongly consider using layered security measures, such as Multi-Factor Authentication (MFA) for all logins. This solution asks for both the traditional username/password combination and another security token before allowing a user to access protected data. MFA makes it much more difficult for bad actors to hack into an account and minimizes the chances that a weak password will lead to a data breach.
Other layered security solutions such as Endpoint Detection and Response (EDR), automatic threat containment and zero-trust application controls, all included in Managed Services from Centre, create a full defense for protecting PHI. With this solution, each layer would need to be compromised in order for data to be breached, which would be extremely difficult. The right healthcare IT company provides layered solutions to make data more secure in accordance with HIPAA and other regulatory requirements.
Use HIPAA-Compliant Software & Storage
Equally as important as setting up defenses against data breaches is ensuring the storage location is secure. The cloud can provide a very secure location for the storage of PHI. The cloud is difficult to hack into if you choose the right storage solution and the right managed cloud service provider.
However, not every piece of software or cloud storage solution meets HIPAA compliance requirements. The wrong ones can leave PHI vulnerable and leave you in violation of HIPAA regulations. The right healthcare managed services provider should recommend the best software and storage solutions that comply with HIPAA regulations so you can keep PHI secure at all times.
Additional Security Features
In addition to the above-mentioned security measures, consider other features such as auto log-off. For example, if someone accesses PHI on a virtual device and forgets to log off, then anyone who looks at that device can see patient information. In order to prevent these breaches of HIPAA regulations, your IT solutions should include features like auto log-offs after a certain period of inactivity. Your Texas cyber security company should recommend other solutions, such as this, for protecting data.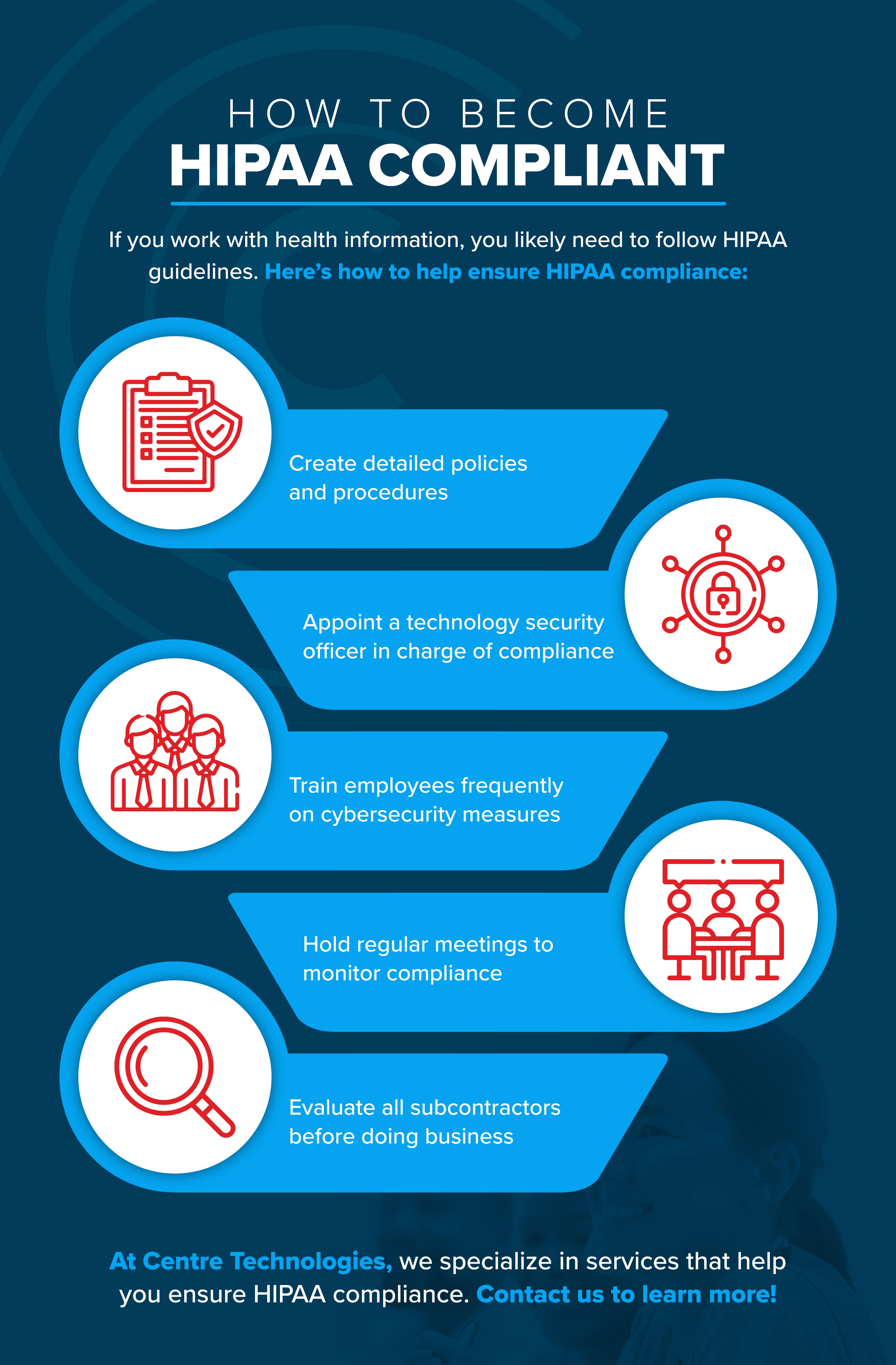 How to find a HIPAA-Compliant it Company
In order to preserve a healthcare company's and its patients' data, an IT company needs several criteria in place. If you're looking for a Texas or Oklahoma IT company that is HIPAA compliant, they should have the following in place:
Security Leadership
A HIPAA-compliant tech company should have a technology security officer who has familiarity with healthcare laws, regulations and industry standards. This individual serves as the point person for the organization to make sure that the various administrative, technical and physical standards are being adhered to. The IT company should also have a good attorney who is well-versed in HIPAA, the HITECH Act and related laws and understands the nuances of the various technologies.
Employee Training
Additionally, all employees at a HIPAA-compliant tech company should undergo annual training on HIPAA and necessary cybersecurity techniques for healthcare organizations.
IT companies with a strong emphasis on compliance should also hold regular meetings, hold employees responsible and perform adequate due diligence on all business associates and subcontractors before entering into a business arrangement.
HIRE a HIPAA Compliant Technology Company
HIPAA compliance impacts every area of your organization's business technology and IT infrastructure. In order to help ensure you remain in compliance, you need an experienced healthcare managed services provider. These professionals will evaluate your specific needs and implement solutions that assist you with HIPAA compliance and general IT support.
Centre Technologies specializes in HIPAA-compliant technology services in Texas and Oklahoma that are customized to your organization's IT needs. We have extensive experience in the healthcare field and working with the tools that enable you secure and protect PHI.
Contact us today to learn more about our HIPAA expertise and how our enterprise security solutions can improve your healthcare business.
Originally published on August 2, 2023
Be a thought leader and share:
About the Author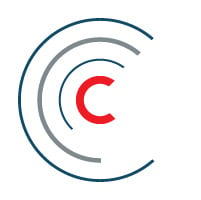 Centre Technologies
Centre Technologies is a full-service IT consulting and managed services provider headquartered in Texas, with a focus on mid-sized businesses. As a trusted IT partner for well over a decade, Centre is recognized for its local experience and enterprise-grade cloud and cybersecurity solutions. Centre is committed to helping organizations harness the power of technology to maximize their operational efficiency and exceed their business goals. Learn more about Centre Technologies »