What is the Difference Between BYOD and MDM?
Is there a difference between BYOD and MDM?
The short answer to the question is: Yes.
In general, you see the same acronyms in discussions concerning workplace mobility solutions and integrating smartphones and tablets into the organization. While the terms have a tendency to appear in similar context, there are significant differences between the two. Understanding the difference between BYOD and MDM is the key to understanding which technology solution will be a better fit for your business.
What is BYOD?
BYOD (Bring-Your-Own-Device) refers to the practice of letting employees bring and use their own personal devices (like Smartphones and tablets) for work purposes. 2015 and beyond will see rises in BYOD practices in many organizations, and a Gartner BYOD report predicts that by 2017, more than half of all large enterprises will require their employees to bring their own devices.
What is MDM?
In one context, MDM (Mobile-Device-Management) is a term that broadens the scope of BYOD and enforces a mobility solution regardless of the origin of the device. Also known as Enterprise Mobility Management (or EMM), MDM is designed to fill security gaps while enabling employees to use smartphones and tablets. Businesses and IT departments use a combination of MDM technology and governance policies to protect their assets.
In another context, MDM can refer exclusively to the software used to manage their data. This includes application-based MDM or permissions-based MDM software.
Which IT Solution is Right for Your Business?
In short, the difference between BYOD and MDM is the origin of the device. The goals of both acronyms, however, are the same: to secure your data while giving your employees the freedom to work outside the confines of their desk. More than that, enterprise mobility is about giving your employees the tools they need to complete their job tasks anywhere.
Which solution will give your business the most value? No two businesses are the same, and while many businesses will enjoy the most value from a strong BYOD program, others might experience more value if they provide the devices themselves.
Evaluate the needs of your business and design your workplace mobility strategy around them. If you need help planning, implementing, and supporting your business's mobility plan, contact Centre Technologies to explore our mobility solutions.
Additional MDM Resources
Are you ready for one more acronym? Enterprise Mobility Management, or EMM, is a set of IT solutions designed to secure and optimize the way organizations leverage their mobile infrastructure. Our whitepaper, Enterprise Mobility Management: Why Size Doesn't Matter, addresses the top concerns with EMM and discusses specific workplace mobility solutions to nullify them.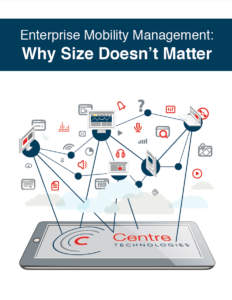 Take advantage of this free resource. Download your copy of this mobility whitepaper today!