Quick and Simple Answers to Your Virtual Desktop Infrastructure Questions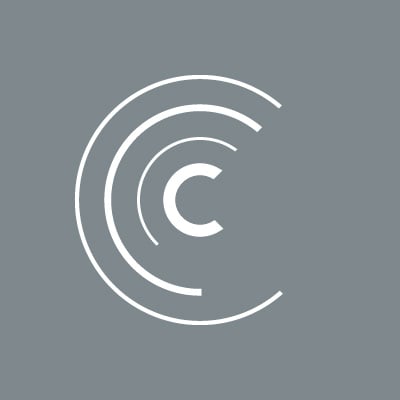 Cloud Solutions
With Virtual Desktop Infrastructure (VDI), you can take control of your workforce with a secure, seamless solution that makes it easy to stay on top of your processes and access what you need to stay productive. You can also give your employees the tools and data they need without compromising your budget and data security. It isn't always easy to navigate Desktop as a Service (DaaS) solutions, and VDI is no different. Here are some quick and simple answers to the most commonly asked VDI questions.
How do you deploy virtual desktops?
Before you can deploy your virtual desktop, it's important to become familiar with the server, concepts, tools and administrator access. Here's how to get started with a Microsoft Azure Virtual Desktop (AVD):
Add Azure Virtual Desktop hosts to your existing domain with a subscription.
Create an administrator account.
Click "Getting Started" under the Overview tab, then click Start.
Complete the Basic Tab.
Complete the Virtual Machine Tab.
Complete the Assignments Tab.
Click Review and Create.
Validate your configurations.
Wait for the "Validation Passed" green bar to appear.
Proceed with your AVD environment and look for a notification that your virtual desktop deployment is complete.
How do you secure vdi?
Once you've deployed your VDI, you'll want to secure your environment and mitigate any security risks to avoid data breaches. Follow these three steps:
Disable local USB:

Using a local USB can present a risk when too many people have access to sensitive data. You can prevent this by disabling the local USB or your copy and paste functions to prevent someone from stealing data and adding it to another virtual desktop.

Separate networks and restrict access:

Keep your VDI and IT management infrastructure separate to limit your workforce's user access to certain protocols and avoid server issues. Manage your applications based on the needs of every user and group and restrict access to resources like external email providers.
Manage the master build:

Always turn off or disable unneeded services and devices to preserve your memory and keep your system secure. Ensure your master image is up to date and use profile disks or nonpersistent desktops each time users log in.
how do you manage virtual desktop infrastructure?
Managing your VDI involves overseeing individual virtual desktops and the infrastructure that hosts them. To help identify any problems before they affect user performance, use the following tips:
Stay on track with software updates between components
Push registry keys
Manage operating system services
Monitor to identify and fix performance issues
Troubleshoot user issues
Monitor capacity
Check vendor security patches and optimization settings


To make processes simpler, it's possible to spread your VDI management processes across different IT teams to handle backend infrastructure, virtual desktop management and software deployment. Having skilled system administrators to oversee your processes can make for a seamless management operation.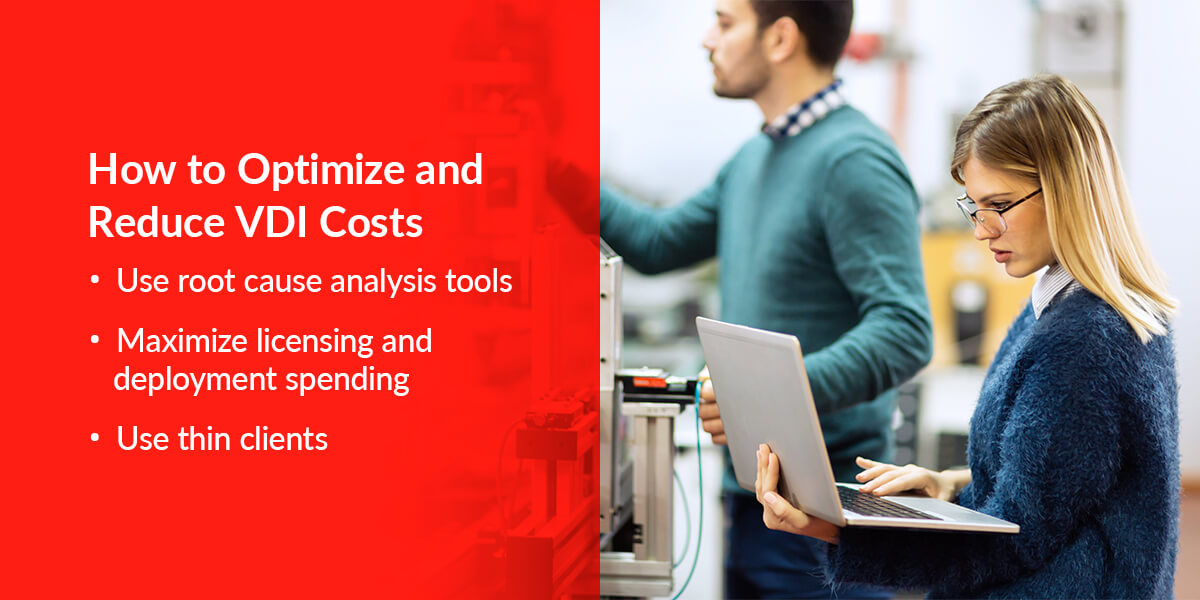 How do you optimize and reduce vdi costs?
Your IT department can help save on upfront costs by elevating their methods and using these tips:
Use root cause analysis tools: Once you deploy your VDI, troubleshoot with root cause analysis tools to help identify performance inefficiencies and monitor servers, hypervisors, user endpoints and overall infrastructure. Solving these issues will cut down on IT labor and help save money.
Maximize licensing and deployment spending: Know your licensing options and determine how much customization and storage your organization and end-users need. Using vendors like Microsoft can help you reduce costs and

simplify and optimize processes

with licensing by user.

Use thin clients: Using endpoints with minimal functionality or local hardware that can host virtual desktops is a great way to reduce unnecessary components and allow your VDI to handle most of the work.
Can I host hybrid cloud apps?
Yes, you can host hybrid cloud apps on your VDI platform. With virtual desktops in Microsoft Azure, you'll have access to a flexible, scalable cloud service to customize and build solutions according to your organization's needs. Using hybrid cloud apps will allow you to share data and applications between your on-premises datacenter and cloud.
This feature will also help you achieve:
Cloud modernization:

Enhance your overall collaboration, workflows and operations.
Cloud migration:

Transfer your old infrastructure to the cloud — ideal for small-scale businesses working with limited resources.


Putting these two features together can improve communication across all departments.
is there a way to get heavy apps to look and perform better?
There are a few different ways you can maximize your application performance to optimize and reduce your VDI resources. Here are some ways to get started:
VDI optimization tools:

Test your desktops with optimization tools to identify issues with application functionality to make it easier to deploy your VDI platform. Optimize your settings and templates and configure any necessary services.
Iterative processes:

After testing for optimization, ensure your desktop uses only the necessary amount of VDI resources. Determine if the basic optimization works for you or if you need to scale and evaluate each optimization for effectiveness.
App virtualization service:

Using application virtualization technology, you can give user access to applications on computers separate from the one where you installed the application. This allows for faster remote application use on your servers, eliminates common issues and allows multiple versions of an application to run on the same machine.


Another tip for better performance is to have your IT administrators retain any optimization templates that can help with any future optimizations you need.
WHat's the difference between dedicated and shared desktops?
A dedicated or persistent desktop is a virtual desktop assigned to one user. This user will use the same virtual desktop every time they log in, and any changes made will stay within the virtual desktop. Develops who need to install their own software will typically need persistent desktops, but they require more effort, time and money to build and manage.
On the other hand, a shared or session desktop is shared between several users. You should lock these remote desktops down so users can't install applications or make system changes that can alter overall settings. There's also an option on these desktops to preserve settings for specific users changes or image updates.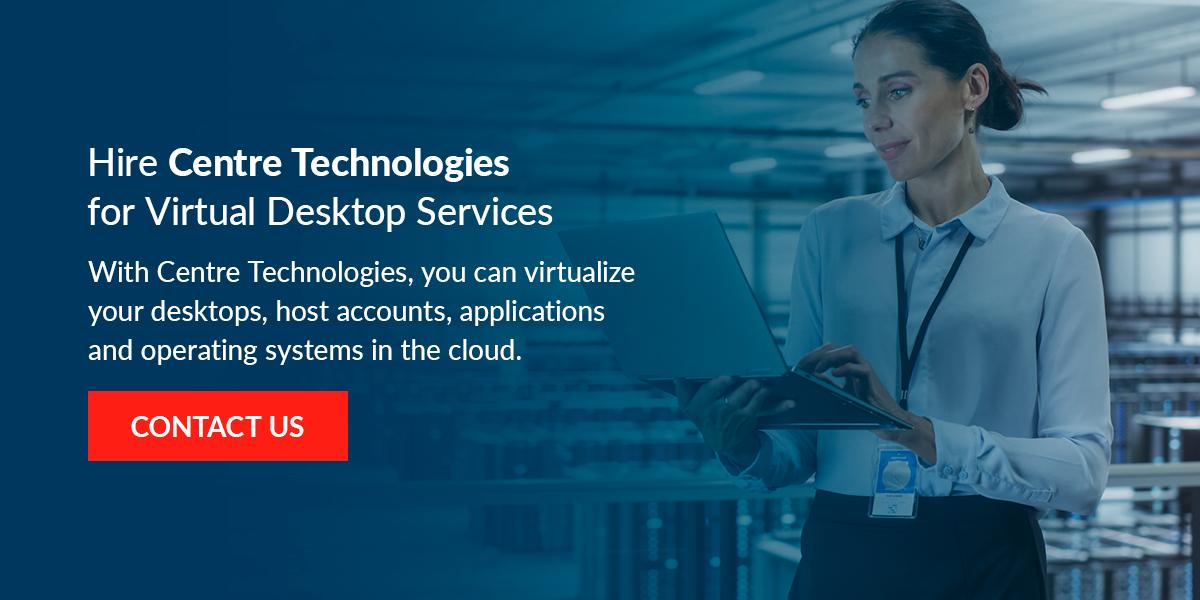 Hire Centre Technologies for Virtual Desktop Services
The most significant contribution to improving your bottom line is keeping your workforce productive through all kinds of challenges. With Centre Technologies, you can virtualize your desktops, host accounts, applications and operating systems in the cloud. This enables you to scale your organization quickly and securely without relying on individual devices.
When you partner with us for VDI services, you can:
Deploy virtual desktops quickly with certified cloud expertise
Improve business continuity and regulatory compliance
Maximize accessibility and data security
Gain flexibility to support a hybrid workforce
Optimize hardware, software and cloud costs


At Centre Technologies, we want to help you maximize your systems and processes and create a digital transformation that helps you stay competitive and keep up with industry trends. Contact us today to learn more about our services and insights into innovative technologies.
Originally published on April 5, 2022
Be a thought leader and share:
About the Author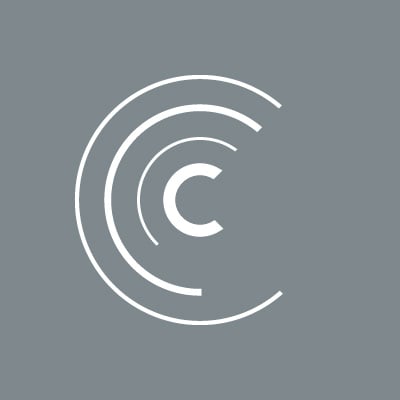 Cloud Solutions
Organizations partner with Centre to harness the benefits of cloud services and minimize the cost. Centre's cloud services deliver comprehensive planning and dedicated support so customers can choose, navigate, and secure their cloud journey with confidence. With a focus on personalized solutions, Centre's certified experts help customers achieve their business goals through public cloud services, private hosting options, or a combination of both. Learn more about Cloud Solutions »